Experiential Marketing Tactics at the 2015 National Women's Show
Posted by Rob Campbell on October 18th, 2015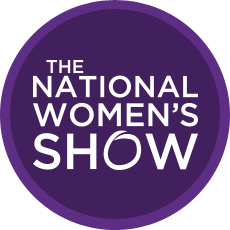 2015 National Women's Show in Toronto Oct 16-18 is not as fancy as the auto show, or as spectacular as a sporting goods show, or as forward-thinking as a consumer electronics show, but it certainly takes the cake when it comes to harvesting freebies. The sheer volume of free promotional items being dispensed, consumed and carried away here is simply overwhelming. This show is a cash cow, and well worth the $15 cost of admission.  I wrote a piece detailing the bonanza that is the 2015 National Women's Show on Toronto Guardian yesterday.
Consumers at this trade show receive a cornucopia of promotional items;  I got a pair of white sunglasses (thanks Bell Canada), shaving razors, face cream, a red scarf, chocolates, a collectible wind-up toy, two different pumpkin carving knives, and a plastic cutting board (that's just what I got). They were giving away phone cases with matching theme ringtones, beauty kits, and cosmetics of every description. And there was free food, lots and lots of delicious free food like sliders (mini hamburgers), hot dogs, energy bars, and beverages.  Even the health and beauty science section of the show had fruit cocktails and whey powder smoothies to sample and enjoy.
But does giving away free stuff to consumers really increase sales?
I believe the National Women's Show is the most generous trade show in Toronto, in terms of dispensing freebies to consumers and using advanceed 'experiential marketing' tactics because it does really work to boost marketing and sales. Why else would these businesses do it if it didn't work?  That being said, even a rookie like me can spot plenty of ways in which these companies could make better experiences.
The National Women's Show is certainly a big leagues trade show marketing arena and so it represents a great challenge, with some stunning achievements amidst a general, overall sense of desperation.  Many exhibitors get anxious, especially small businesses, and the feel overwhelmed here as they ask 'how can my lonely table possibly stick out from every other offering in this mercantile jungle?' How can simply receiving one free sample persuade consumers to switch suppliers for life?  Well, it all starts the moment you spot a brand's distinctive logo at the show…
Initial engagement tactics range from cool graphics, videos, slide projections and creative lighting to featuring unique product demonstrations, crowd-pleasing games and other live entertainment cool 'gimmicks' in their booths.  Trade show flavoured experiential marketing is different than other forms of 'shopper marketing', and differs immensely across industries and locales, but in almost every case exhibitors in these booths are working hard to capture the attention of event attendees AND HOLD THEIR ATTENTION long enough to get them to mentally digest one simple brand message. If they can do that with two out of three people then their show is a big success, but if they cannot communicate their value proposition or some distinctive story-byte, then they are wasting money here.
In my opinion, the way attendees consume samples at the Women's Show is hedonistic and slightly irresponsible on the part of most marketers. This show is high on rewards with very little action on the part of consumers. In the food court, for example, vendors are dispensing every size and shape and flavour of tasty treat that boggles the minds of the passerby s. I swear some of them don't even know what they're lining up for..  And honestly sometimes the people don't know if they're eating a butter tart or butter chicken. They just shove it in their mouths and move on. I'm a big believer in making people earn the experience.
DermVisage Anti Aging Skincare
One of the smarter 'interactive' science exhibits was the DermVisage Anti Aging Skin Care Products booth where Ursala Eshragi and her staff harnessed the power of their state-of-the-art skin analysis tool, a complicated sensor gun connected to a powerful laptop that can read skin types. The analysis focused on three factors, moisture, oiliness and the elasticity of each subject's skin tissue.  I was given a free sample of anti aging cream for men which is a high tech skin moisturizer after it was discovered that I have very dry skin.  The lady behind me had low elasticity skin and so she received a 30 ml sample of DermVisage super smoothing cream.  My booth experience ended with me giving my email to enter a draw to win a free prize. That was a good session because I learned something, and now I'm very engaged in the brand and will read their newsletter emails (because I want to know if I won the prize, or at the very least who won the prize).  Plus, I will be eager to see more information about the on-going science experiments, and the latest breakthroughs the company makes as it relates to skincare and my particular skin conditions of which I am more aware. And of course the big question is, will I buy the brand at the drugstore or in their online store?  Hmmm… maybe.
Down the aisle, the science fades and the glam resurfaces to showcase beauty and youth. Each booth in the center corridor, presumably the premium locations and most expensive floor space to rent, have music and lights and some high value giveaway to impact all consumers. Here there are well trained cosmeticians doing free makeovers while they pitch products in conversation.  While they hold the subject captive they describe beauty services and equipment.  Make-up specialists show new colours and shades and convince consumers to buy the brand based on custom colour charts made to show optimal shades for different seasons.
Food Services Dominated the Show
The entire east side of the Metro Convention Center was dominated by food service vendors. There was a food truck right smack in the middle of the show, and the crowd around it reminded me of scenes from The Walking Dead.  It was absolutely thronged by hungry zombies who paid the only asking price; their names and email addresses or facebook or twitter profile LIKES and TWEETS were collected and sent through a sophisticated floor mounted touch screen 'interactive' menu that promised free food in exchange for personal data. Here's Keith Jasper getting a slider.
This is a great way to build a huge list of hundreds of Toronto area consumers. These folks may opt in for more extensive email newsletter marketing later if and when Canadian Food Services reminds them about the free burger they ate at the show. er well its probably more subtle than that.
Keith Jasper runs Bounce Ideas and is a friend. He markets a food truck event in Whitby each year and so of course he couldn't resist getting a free pulled pork sandwich at the show.  Keith's company specializes in communicating with female shoppers and he spends plenty of time at the show each year just soaking it up as part of his lifelong quest to better understand how to sell things to women.
Dr Stephen DeWit Simply Talks About Sex to Sell Books
Dr Stephen de Wit was at the 2015 National Women's Show, 'changing the way we think and communicate about sex'.
He was on the main stage Saturday 3:00 PM and the write up for his speech read, Sexologist, Dr. Stephen de Wit, is a highly sought after international speaker, coach and consultant who specializes in helping people create freedom, pleasure and fun in their sex life. He holds his Master of Public Health in Human Sexuality and Doctorate of Human Sexuality. Stephen is a Board Certified Sexologist through the American College of Sexologists, a member of the Sex Education and Information Council of Canada and the American Association of Sex Educators, Counsellors and Therapists.
I really didn't get a chance to talk to him that long, (we have mutual friends)  because while he was still setting up he was assaulted by curious people, mostly men, who gathered around him and one actually asked, 'how much is your book?' as he reached for his billfold.  I'm not kidding. I would remind you as a way of concluding this piece that people who are curious are halfway along the path to purchase.  Are you curious about Stephen's book?  You can buy The Sexual Freedom System on his website.
Here's some video I shot at the show,
In summary, there are many ways to wrangle attendees at trade shows, but the very best result is to create a personal experience. The best businesses run booths that make and disseminate an engaging, educational or informative or otherwise compelling message that builds brand awareness and loyalty better than (or in conjunction with) freebies and mindless 'soul less' promotional samples.